SPECIAL – $29.95
You can now experience the Healing and Coaching Programs
that are changing lives…

as you receive support through Mary's AMAZING Online Community.
---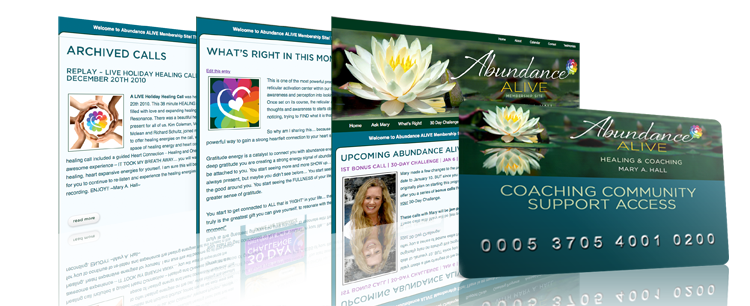 "A truly amazing experience overall and one specifically meaningful personal shift happened as Mary worked with me on a call where the discussion was around generational "hooks"…not only did I benefit but my daughter who knows nothing about my participation in this program called to tell me that she had an amazing breakthrough and was able, that night, to film my grandson during a wrestling match which she had not done since he was seriously injured a couple of years ago! I so appreciate the space that was created for both of us!" ~ Judy ~
"I am so thankful to be a member of your wonderful community; you certainly do go above and beyond in everything you do!" ~ Linda ~

The Abundance Alive Healing and Coaching Support Community is chalk-full of support to assist and guide you on your healing journey. As you choose to join this community, you are opening yourself up to on-going support to assist you with your abundance, joy and well-being.
You will have access to live calls with Mary each week – where she will answer your questions, and offer additional support, guidance, healing and coaching. If questions arise, in your life, you will have direct access to Mary and her team, ensuring your questions are answered and that you receive the support you need.
In addition, you will have access to hundreds of archived calls from previous coaching programs, as well as the on-going live calls with Mary and her team – where they offer wisdom, coaching, guidance and additional healings.
This community is radically different than anything else you've ever experienced. It provides you immediate access to revolutionary, cutting-edge, heart-based coaching programs that guide you directly into the abundance, joy and well-being that is already your true essence.
Many of our community members have experienced dramatic shifts and life-altering awarenesses after only listening to a few calls, yet by signing up, you have access to ALL the upcoming live and archived calls.

"I am awed at how much information was shared, how the foundation was built and how you so skillfully wove the pieces and how much I grew from participating. Mary, when you hold that space of love and compassion and support forgiveness for the group, profound shifts occur. It is one of your most powerful gifts. I want all my friends to join in so they can listen to the 30 Days!! And I loved the support calls to help integrate what we learned with you." ~ Punita ~

" I am deeply grateful to you, Mary for being so generous in sharing your knowledge. I feel that I now have a better manual to live my life. Also gratitude for this brave and lovely community you have created. Much love," ~ Peggy ~

_________________________________________________________________________________________________________________________
30 DAY CHALLENGE






30 Day Challenge – 30 Full Days of Content PLUS Added Bonus Calls Mp3 Audios

This course dives deep into teachings and healings that allow you to fully live an abundant life. Take the challenge to dramatically shift gears by learning simple, easy to implement steps that will transform your thoughts and beliefs and open you up to a life of ease and abundance.(RETAIL VALUE $227)
"The 30-Day Challenge has been awesome. I learned so much from every call. I used to wake up in the night with great anxiety – now only once in a while… and I say those phrases Mary shared with us …and the anxiety subsides and I am able to go back to sleep. I was blown away at the results. It's amazing to say the least. I had been praying for a teacher and my teacher appeared – Mary A. Hall. I am continuing to grow and when I find myself in an unhappy place I know what to do to get out of it quickly. The program was so loaded with information and insights that it's hard to summarize. I also would like to say I love listening to the love in Mary's voice and how she giggles with joy when someone is "getting" it. I can hear the happiness that what she is doing is helping all of us. Thank you so much Mary for all the time and energy you gave us. God's Divine Energy flowed through you to us. I feel such love and gratitude toward you. I also appreciate the support circle. Such love from them also." ~ Nita ~
_________________________________________________________________________________________________________________________
ACCESSING DIVINE INSPIRATION

Accessing Divine Inspiration – 8 Week Mp3 Audios

This course teaches you simple techniques and processes to help you get out of the way to be able to receive the guidance and inspiration to live your best life. Answers around many of your questions will surface and be revealed as you open up to this divine inner source of guidance. (RETAIL VALUE $227)
"You Mary are an amazing, extraordinary force of love, wisdom and healing-a beacon of light in the mindstorms of life and a powerful presence in the sea of conditioning and false beliefs. In deep gratitude for all that you share and for the sisterhood. Love and grace!" ~ Kennedy Hassett Braden ~
"Mary, you are a breath of fresh air, an uplifter and stabilizing presence during this extraordinary time on the planet. I am so grateful for your coaching calls, your wonderful support team and all the guidance, direction and light. Love and many blessings to you all." ~ Susan ~
"Hi Mary! You are an incredible beacon of light and hope for me. I cannot thank you enough for the work that you are doing. Though I could not always get on the calls live, I listen to replays over and over, getting more out of them each time! I had an epiphany of sorts when listening to the precall once again…. Wow…. pretty powerful stuff!" ~ Elissa ~
_________________________________________________________________________________________________________________________
22 DAYS OF HEALING & ABUNDANCE

22 Days of Healing & Abundance – 21 Mp3 Audios

This series of healing audios was designed to guide you through 22 Days of healing your abundance. There is a total of 20 Audios (together from two programs) and as you listen to the healing audios, you are healing body-soul-spirit-mind and those areas within that are preventing you from experiencing your ultimate Abundance. In addition, your own unique abundance blueprint, which is your birthright, is opened, cleared and activated, so you can fully open up and step into the Abundance that is here for you. (RETAIL VALUE $227)
"Mary, thank you from the bottom of my heart. Every call with you is just amazingly wonderful. I listened to these calls on replay, and they are the most beautiful energy! I felt these wonderful feelings of light just washing over me the whole time. I am so looking forward to listening more! I wish these calls would just continue past the 22 days – I never want them to end!" ~ Sherri ~
"I'm still a little emotional from the magnificent circle of light that we were so blessed to experience a few minutes ago. I feel so full and deeply blessed. I loved sharing this with the entire world and all of its beings. Thank you so much for sharing your tender heart with all of us today and each time that you speak with us. You and your work are the epitome of love and abundance." ~ Andrea ~
_________________________________________________________________________________________________________________________
PLUS Private Member Access…
Full and unlimited access to ALL coaching groups – You will have access to all of the calls and recordings of any coaching groups happening now, AND you will have full, unlimited access to ALL coaching groups that have happened through this community in the past as long as you are a current member.
Live calls with Mary – You will have access to live calls with Mary A Hall – a renowned healer, coach, speaker and author who has transformed lives around the world.
Live calls with her Support Circle Team – Mary has a large support team of healers and coaches who she has mentored personally and who have studied her work intensively. They host calls each week – as they expound on Mary's teachings and offer 'mini' sessions of healings, coaching, or 'readings'.
Full access to all recordings – You will have full access to ALL recordings – from the coaching groups, and from any live calls hosted by Mary or her support Circle team. As long as you are a current member, you have access!
Ask Mary – This site has a forum through which you can submit any question you may have around Abundance or anything else Mary teaches. Mary answers these questions live on calls or through her Blog.
Bonus Audio Clips and Resources – In addition to the recordings from calls that have happened through this site, you also have access to ADDITIONAL audio clips and resources from Mary's other products, programs and coaching sessions. These further enhances your learning.
Discounted personal healing/coaching sessions – Mary's Support Circle offers GREATLY DISCOUNTED sessions for one-on-one individual sessions. You can request a session at any time and can experience a variety of healing or coaching modalities just for you.
This Abundance Alive Community is a place of safety, conversation, insights and healing for all who join.



"I have been so deeply touched by your generosity of Spirit, your true authentic presence and attention to such detail and depth. This experience has been so far out reaching any of my wildest dreams for a spiritual support community and I have learned so much so quickly and now have had some time to process the whole experience and go back into my own influence bubble and truly experience how much I have changed in my outlook, thought processes and daily experience of life. So much more peace, so much more joy and gratitude for what shows up. Thank you for being such a fine example of love, generosity and presence. I am awed by you all and I am awed by myself for allowing myself to receive such a beautiful gift and take it fully into my heart. Thank you! I Love You…" ~ Ginny ~
"I am amazed at all that you offer in this community from your Coaching Programs, Support Circle and Bonus calls as well as access to archived calls and programs. I am half way thru the 30 day challenge archived calls and I thoroughly enjoyed the 8 week Accessing Divine Inspiration calls. And your recently offered Healing calls…WOW!!! I definitely got my moneys worth and so much more. I even told a friend that I could no longer imagine a day without Mary in it… so I am blessed to have the opportunity of continuing to be a member of this wonderful community." ~ Kathy ~
WOW is all that can be said!
Join now and be a part of this amazing community
and gain full access to experience Mary and her life changing Healing and Coaching Programs!
WOW and a WHOO HOO – THIS IS YOUR CHANCE!!!

---
A REMARKABLE LIFE-CHANGING OFFER AT A HUGE 85% SAVINGS!
NOTE: You will be automatically billed $29.95 every 30 days
to continue your access to the Abundance ALIVE Healing & Coaching Site!
(If you choose not to renew, simply email us at customersupport@maryahall.com
and we will cancel the automatic billing.)
YOUR membership site access will begin upon purchase.

""Dearest Mary, this class has been so amazing, transformative, helpful, insightful and an absolute joy! I have done many years of personal growth work both in the area of healing trauma and in the area of abundance/law of attraction. I have not come across any program or teacher that seamlessly integrated the two in the way you do. While people on all levels of abundance and healing will greatly benefit from your work, this class really is a rare beacon of hope and the missing link to abundance for people who are dealing with deep seated vibrational obstacles. I am in awe of your ability to create tremendous safety, authenticity, intimacy and trust among a large group of strangers over the phone and webcast. You honed in on core issues, on the messages between the lines, with such skill and ease through your intuition and sensitivity for energies. You are able to explain the concepts with great clarity from the depth of your understanding. Most of all, the healing light of your love shines through the words so brightly and touches, sometimes gently pierces people's hearts in just the right places, reminding all of us of who we really are. I am honored to have been a participant and witness to your work." ~Nina, AZ~

"I have studied, practiced, taught, enjoyed, participated in many, many spiritual and personal development workshops. The 30-Day Challenge with Mary Hall, has been a missing link, the piece that pulled all of my years of training, into an embodied presence that has really empowered me to not only go through layers of 'stuff' known unknown, it has given me tools that I use the moment that 'stuff' comes up. This class is an absolute for anyone and everyone wishing to learn more about making conscious our unconscious issues as well as ways to change the way we hold them in our bodies and in our minds. I listen to the calls over and over, take notes and have started sharing the techs and info with others already…it is usable info right away and very, very clear and simple. Mary's presence is loving, kind and just 'being with her' creates a vortex of abundance. Indeed." ~Kim Coleman, Canada ~

"I have been doing so much consciousness work, and yet I always felt a level of awareness that I could not reach/access. So even though I could feel things, create on one level, in my physical reality I was not experiencing it. Now, after going through your class, I now understand why I could not let it in. And I got to a point of loving/honoring and being myself that I was able to end a relationship that I knew was not right for me. The best part of this whole experience is the feeling of love and flow that I feel. And even though there may be more to address, I am doing so from a very different space…a more loving space and it feels so much easier, gentler, and kinder to myself and others. Thank you Mary, for your love and holding of the space for us to see who we really are. I love you. ~JiSeon, Oregon ~

"There have been so many shifts in my awareness and so many examples of how abundance has either entered or been recognized as having already been present in my life I could write a short story about it! The depth of balance I've achieved in my life accompanied by the feelings of joy, gratitude and love I've learned to maintain throughout my day/week is something I thought it would take years to train myself to do; however, you've catalyzed it in 8 weeks! Bless you and thank you Mary for the size and strength of your divine heart. ~Kami Bowman, Florida~

"Taking Mary's "30 Day Challenge" is the greatest gift I could have given myself and, therefore, all of my loved ones. To me, it's been miraculous. Mary is "Love Personified" and she is exactly who I needed to "hold me" as she did with Love, Compassion, & Support, in order to get "unstuck" and to truly blossom in my life. After doing the homework, and "Playing" with all the loving information and strategies that Mary gave us, I'm feeling GOOD, HAPPY, & JOYFUL 85% of the time!! Life is exciting and I'm feeling infinitely blessed!" ~ Carolyn Mair, Oregon ~

"This Abundance class has been one of the BEST classes that I've ever taken. I am becoming the person that I've always dreamed that I could be. The collaborative effort that you and Jennifer gave to all of us is beyond words. You both allowed us to shed another layer of our old self and allowed us to blossom like a spring flower. I am forever grateful and touched by your level of commitment and generosity. God Bless you and all the things that you do. I highly recommend this AMAZINGLY transforming class to anyone is ready to find their authentic self. ~Debbie~

"These past 8 weeks have been wonderful for me. When I started this course I had so many doubts and held beliefs that were setting me up for the wrong things in life. Today I feel like the world is open to me. Mary, you have provided the most powerful and wonderful tools in order to build the foundation for abundance. I feel so much better about all of the abundant possibilities before me. And now I 'know" that every day is a divine blessed infinitely abundant day. This group has been wonderful to work with. Thank you Mary for blessing me with so many loving gifts."
~Love, Cecilia from Ohio~

"It's hard to put into words what the Abundant Life Coaching Group means as it's such as transformational experience. I came in as version 1.0 and leave as 2.0 and my view of the world is wide open, abundant and full of bright vibrant color. Thank you so much for everything." ~Sherry Waddingham, Canada~

Brought to you by Mary A. Hall Programs
www.maryahall.com customersupport@maryahall.com
WITH YOUR PURCHASE YOU WILL RECEIVE
PRIVATE MEMBER ACCESS TO ABUNDANCE ALIVE!
Add to Cart